Podcast: Play in new window | Download
Subscribe: Apple Podcasts | Android | RSS | More
 Download and Listen Now!


This is not going to end well…
This was the last thought John had before a tragic event that should have ended his life.  In this episode John shares his story, where he was at the top of the world in both business and the military.  Suddenly everything changed when he was thrown from a horse into a steel fence, sustaining injuries that many doctors did not feel were survivable.  God appeared to John and he shares what God said to him at the accident that transformed his life.
The accident put John in ICU for 5 weeks followed by 20 months at Craig Hospital and 23 surgeries and procedures.  Through setbacks and triumphs, God's intervention in his life has shown him how to see the good in people and to bring out the best in them.  John shares how you too can have an extraordinary life, business, and relationships through your own personal relationship with Jesus!
What you will Learn
Leaders who learn to trust God create massive velocity in their lives

How to find hope when you are convinced that none exists

How to accomplish more partnering with God than you could ever dream of on your own

What you can do to set big audacious goals and accomplish them

The 3 steps that John used to create a massive breakthrough in his life
Bio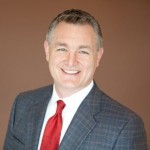 John has been married for 25 years to his best friend and has three incredible boys.  It has been three years since a near fatal accident has changed the trajectory of his life.  Without the incredible support of God, his family and amazing friends he wouldn't be the person he is today.
As he recovered he sought direction on why God saved him and what He now wants John to do.  God gave John a new calling: take the life He's given him and pour it into other leaders to equip and inspire them to work in His Kingdom.
John's twenty-five years as a Navy fighter pilot, entrepreneur, Fortune 500 management team member and board chair has led him to serve others towards extraordinary lives, businesses and a personal relationship with Jesus Christ.