Podcast: Play in new window | Download
Subscribe: Apple Podcasts | Android | RSS | More
THIS IS A TRUE STORY ABOUT MAFIA, MONEY, LOVE, LOYALTY AND GOD …
I first met Michael Franzese through Pinnacle Forum where he is a partner with me.  His story of redemption and forgiveness is one of the most powerful I have ever heard, and will give you renewed hope in the One who came to give life, and give it more abundantly!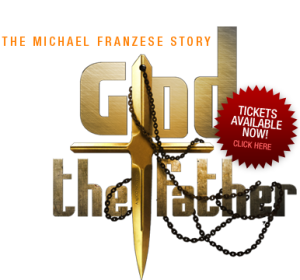 Michael's story is now a major motion picture that is a must see!
God The Father…takes us on the untold personal journey of Michael Franzese, a young and charismatic Capo in the Colombo Crime family during the 1980's-90's and whose notorious father, Sonny Franzese was also a renowned Underboss. Following in his father's footsteps in the mid-1980s, Fortune Magazine named Franzese as number #18 on its list of the "Fifty Most Wealthy and Powerful Mafia Bosses".
According to a Federal report, Franzese made more money for a crime family than anyone since Chicago Outfit boss, Al Capone.  A revelation that Michael's own father went along with a contract hit on his life; Michael's love for his wife and children; and the realization his own life was heading the same way as every other mob guy that came before him…straight to ST. JOHNS Cemetery in NYC, Michael took the decision to leave the 'Life'.
An act previously thought impossible…Michael Franzese publicly walked away from the Colombo family and organized crime. During his time in prison, Michael discovered the Bible. Devouring its contents, Michael found parallels between the Good Book's teachings and his experiences in the 'Life' which translated into Michael developing his own unique religious perspective and faith. It is a faith that is directly responsible for his still being alive today.
God The Father…utilizes every cinematic ingredient available to tell Michael Franzese's remarkable journey from a 'made man' to a man of God. From choreographed dance sequences, traditional interviews, stock footage, visceral re-enactments and sophisticated animation sequences…specifically designed to show the more violent aspects of mob life, in a subtle and intelligent way. This film is the first time the Michael Franzese story has ever been told cinematically and with such originality and power.
Resources
Learn more about Michael Franzese
Schedule a screening of this incredible movie
Bio
Pinnacle Forum Partner, Michael Franzese grew up as the son of the notorious Underboss of New York's violent and feared Colombo crime family. At his most affluent, he generated an estimated $5 to $8 million per week from legal and illegal businesses. It was a life filled with power, luxury…and deadly violence.
Just a few years ago, mafia boss, Michael Franzese was named one of the biggest money earners the mob had seen since Al Capone, by Vanity Fair. At the age of 35, Fortune Magazine listed him as number 18 on its list of the "Fifty Most Wealthy and Powerful Mafia Bosses", just 5 behind John Gotti. Avoiding traditional mob domains, Michael masterminded brilliant scams on the edge of the legitimate business world. From auto dealerships and union kickbacks, to financial services and the sports and entertainment industries, to a multi-billion dollar gasoline tax scheme, he earned millions in cash every week at his peak. Not surprisingly, Michael quickly became the target of Manhattan's famed federal prosecutor, Rudy Guiliani. After promising Michael 100 years behind bars after indicting him on racketeering charges, Rudy only came up empty handed. Escaping four more indictments, it seemed Michael Franzese truly was invincible.
While producing Knights of the City, a break dance movie filmed in Florida, Michael met a beautiful dancer from Anaheim, California, named Camille Garcia, whose innocent beauty turned his world upside down. After falling in love and eventually marrying Cammy, she convinced Michael to take the rap on racketeering charges. Michael pled guilty, accepted a 10 year prison sentence and vowed to do the unthinkable – walk away from the mob. Nobody of Franzese's rank had ever just walked away – and lived. Until now.
Michael Franzese is the only high ranking official of a major crime family to ever walk away, without protective custodies, and survive.
He is now a man on a mission. Determined to use the compelling experiences of his former life for the benefit of corporate executives, professional and student athletes, at-risk youth, church audiences, and for anyone seeking the inspiration to beat the odds and make positive changes in their lives, he has become a highly regarded motivator and a source of invaluable information.