Podcast: Play in new window | Download
Subscribe: Apple Podcasts | Android | RSS | More
Inspiration to Impact Your Area of Influence
Coaches Corner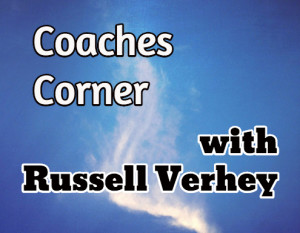 The goal of coaching is to accelerate a leader's development.  Coaching speeds learning time, enabling leaders to make significant leaps in learning and behavior change in a matter of months rather than years.
Our goal is to add value to you by addressing the questions you have submitted.  Please comment below so we can include your question on the next episode!
Leadership and executive coach, Russell Verhey answers questions from our audience
As a leader I often feel lonely, how do I develop authentic relationships along the journey?

What does it take to cultivate a culture of trust with my team and peers, especially if I have been betrayed before?

How assess the level of trust in my organization?

How do I connect to my values and what is important to me?

What does it take to keep stress from allowing me to reach my full potential?
Resources
Bio
My name is Russell Verhey. I build leaders. That's why I am here…I have a 50 year vision to build up and resource leaders!
The most important thing about me is my faith and family. God is the source of every good thing in my life.  My sweetheart Cari and I recently celebrated 21 years in marriage. I'm more in love with that lady than ever before. My kids are my heart. Ellie the Encourager (17), Bethany the Graceful (15), Grady the Cheerful (10). My faith and family strengthen me to serve leaders! Leaders who have committed their lives for redemptive purposes…
I graduated with a Bachelors of Arts in Entrepreneurship from Kennesaw State University in 1996.  I have a legacy and a passion for business handed down from my family, and I started my first business with employees as a 16 year old.  I also own and operated an office furniture sales organization for 18 years with nationwide and international clients.
I earned my Master's Degree in Leadership Development from Denver Seminary in 2006 which further equipped me in my passion to build leaders.  I have been a member of R12 and Vistage business round-tables in Atlanta, Georgia while running my office furniture business.  I have also been a coach and chair for Convene for 3 years, investing in the lives of Colorado Springs CEO's.  I started the Advance a couple years ago to meet the expanding leadership development needs and team challenges of my clients.
Like any good builder you're always looking for the best materials, tools, and tradesmen to get the job done… It's these resources that I hope to provide that will build leaders who are marked with a mission and bring their teams to full capacity and unity under that vision.