Podcast: Play in new window | Download
Subscribe: Apple Podcasts | Android | RSS | More
A practical guide for using your spiritual gifts in business
"It's been in my heart that the glory of God is shown in the marketplace." – Daren Shearer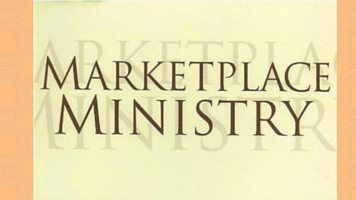 In this episode, successful blogger, podcaster and author of the well acclaimed book Marketplace Christian, Darren Shearer, shares what it means for you to discover and fulfill your specific, transformational ministry to the world of business.
Darren does an extraordinary job revealing the identity and purpose of Christians in the marketplace, plus providing both insight and tools for how to be a transformation agent in your industry to the glory of God through your spiritual gifts.
"Spiritual gift is a special ability given by the holy spirit to the people of God for the purpose of awareness of the glory of God throughout the Earth." – Daren Shearer
What You Will Learn:
Discover your spiritual gift

How to use your spiritual gift in the marketplace to have kingdom impact

Realize how what you do relate to the work of the church

Importance of finding people using their gifts in the workplace
Resources:
BIO 
Darren Shearer is the founder and CEO of High Bridge Books, which offers professional book publishing and author consulting services for inspiring thought leaders. He is the podcast host and lead blogger for Theology of Business, a training organization that helps marketplace leaders partner with God in business to transform the marketplace and make an impact for eternity. The Theology of Business Podcast has been downloaded in 59 countries. Darren is the author of three books, including The Marketplace Christian: A Practical Guide to Using Your Spiritual Gifts in Business, and Marketing Like Jesus: 25 Strategies to Change the World. A former Captain in the US Air Force, Darren earned the United States Air Force Commendation Medal for his meritorious service in Kuwait during Operation Iraqi Freedom. Darren and his wife, Marie, reside in Houston, Texas and have two young boys: Solomon (born in Feb 2014) and Armand (born October 2015). He holds a M.A. in Practical Theology from Regent University (Virginia Beach, VA), attended business school at Pace University (New York, NY), and completed a B.A. in English from Charleston Southern University (Charleston, SC). Come hear Darren share the passion behind his work & his ministry: "that the workplace is where disciples are made – that's where we spend our time, and that's where lifestyles are modeled and observed.