Podcast: Play in new window | Download
Subscribe: Apple Podcasts | Android | RSS | More
Would you like to increase your leadership effectiveness x 10?
That is exactly what my friend Bob Tiede shares on this episode.  He put together this essential free resources of 100 of his favorite "Leading With Questions" questions.
This book highlights more than 100 questions to ask yourself, your team, your boss, your friends and family to help you connect with others more deeply and profoundly.
Bob has a passion for equipping and inspiring leaders and you will find this book to accelerate your leadership journey!
"We thought we had the answers, it was the questions we had wrong."  Bono, Musician and Philanthropist 
Here is an excerpt from Bob's book which you can download HERE
FACT OR OPINION?
Do your staff/peers/leaders ever make statements that you suspect may not actually be true? World War II General George S. Patton was known for his quip:
"How do you know that?"
This is a profoundly simple and effective method for sorting out opinion from fact.
HAVE YOU SEEN CHARIOTS OF FIRE?
Chariots of Fire was the winner of the 1981 Oscar for Best Picture. In the movie, Erik Liddell says, "I believe that God made me for a purpose, but he also made me fast and when I run I feel his pleasure." With this as context here is one of my most favorite questions:
"What are you doing when you feel God's pleasure?"
INCREASE YOUR EFFECTIVENESS
What are five simple questions you can ask your staff regarding how you could become a more effective leader? Simply ask:
"What do I need to start doing?"
"What do I need to stop doing?"
"What do I need to do more of?"
"What do I need to do less of?"
"What do I need to continue to do?"
WHAT CAN WE LEARN FROM JESUS ABOUT ASKING QUESTIONS?
Jesus, the master communicator, went about sharing stories and asking questions. The four Gospels record 173 questions that Jesus asked. You can read all 173 questions by clicking "HERE"  
Might we do well to follow his example? Why do you suppose Jesus asked so many questions? I ask a lot of questions because I don't know the answers, but that certainly was not true for Jesus! Might it be that he understood that asking was a much better way to engage your audience than telling?
Do you remember how the story of the Good Samaritan ends? Jesus could have said: "So therefore the Samaritan was his neighbor." But instead he asked, "Which of these three do you think was a neighbor to the man who fell into the hands of robbers?"
Two of my favorite questions that Jesus asked are found in Mark, chapter 8.  Jesus and his disciples went on to the villages around Caesarea Philippi. On the way he asked them,
"Who do people say I am?"
They replied, "Some say John the Baptist;
others say Elijah; and still others, one of the prophets."
"But what about you?" he asked. "Who do you say I am?"
Peter answered, "You are the Messiah."
I have the same two questions for you:
"Who do people today say that Jesus is?"
"But what about you? Who do you say Jesus is?"
If you are not sure or would like to know more about who Jesus is, I would be delighted to send you one of my favorite books, "More Than A Carpenter" by Josh McDowell, my former colleague of 24 years. Please email me at bob.tiede@cru.org with your mailing address and your book will soon be on its way – with my compliments (offer available U.S. only).
CLOSURE IS OVERRATED
In their book, "Help Them Grow or Watch Them Go,"  my friends, Beverly Kaye and Julie Winkle Giulioni, suggest that closure is overrated. Don't feel the pressure to wrap up every conversation with a bow. Try this instead:
End your next meeting or conversation with a question.
Explain that there's no time for a discussion, but that you have one more question that you want to close with. Then, the next time you are with that person, ask if they remember the question. You'll be surprised that they not only remember the question, but they'll also have quite a few answers for you.
CONVERSATIONAL FUNDRAISING
If you are in involved in fundraising, would you like meetings with potential donors to be more conversational and less presentational?
Here are six questions from my friend Kent Stroman, author of "Asking about Asking: Mastering the Art of Conversational Fundraising:"
"How did you learn to give?"
"What would you like your gifts to accomplish?"
"How do you decide which projects to support with your own time and money?"
"What are your top three charitable interests this year?"
"What gift did you make that has brought you the most joy?"
"Could you ever see yourself becominginvolved with our mission?"
You have just read a short excerpt from "Great Leaders Ask Questions: a Fortune 100 List".  If you like what you just read you will want to download and read this entire FREE e-book!
Bio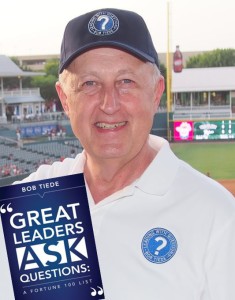 Hi, I'm Bob Tiede. I am passionate about helping leaders shift their paradigm from the pressure of having to have all the right answers to simply having a few of the right questions.
In 2006, while browsing in a bookstore, I came across Leading With Questions by Michael Marquardt. I only had to peruse a few pages before declaring, "This is a keeper."
The ideas in Leading With Questions changed forever how I looked at leadership, and provided the vision for this website.
What you can expect find on Leading With Questions:
Curated wisdom from leaders around the globe
Ideas to help you multiply your effectiveness times ten
Leadership book recommendations
Interviews with thought-leaders, authors, and pastors
At Leading With Questions, you are invited to join the growing league of leaders who are shifting their focus from having all the answers to asking the right questions.
Bob has been on the staff of Cru for 44 years. He currently serves on the U.S. Leadership Development Team and is passionate about seeing leaders grow and multiply their effectiveness. Bob and his wife, Sherry, live in Plano, TX and are blessed with 4 incredible children and 6 remarkable grandchildren.