Podcast: Play in new window | Download
Subscribe: Apple Podcasts | Android | RSS | More
A Wingman Is Essential To Your Success And Significance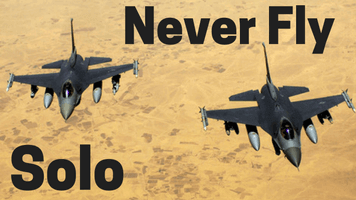 Rob "Waldo" Waldman understands one thing better than most: You can't reach your highest potential alone. You need wingmen―trusted partners―who can help you overcome obstacles, adapt to change, and prepare for success.
"Be careful who your hanging out with. Are they emulating excellence? Are they challenging you to be better than who you were yesterday?"
Waldo Waldman
Join us in today's episode as my friend and mentor, decorated former combat F-16 fighter pilot and now a successful entrepreneur and hall of fame speaker, Waldo, shares how your success depends on the mutual support of trusted relationships. You will the learn the power of having wingmen and how they will launch your success while helping you overcome obstacles in yoru path.  This works in life as well as in a cockpit.
"There are no overnight successes. You have to earn your wings and continuously evolve and grow and shift."
Waldo Waldman
If you are serious about launching your business and life to new heights and building trusting relationships and, then invest your time and listen to this episode.
What You Will Learn:
What is a wingman and how do you find one?
Why it's important to admit that you need help
The importance of appreciating the people who are on the sidelines
How to lead with courage and  build trusting partnerships
Resources:
Bio 
Motivational keynote speaker Waldo Waldman – The Wingman – is the author of the New York Times and Wall Street Journal bestseller Never Fly Solo. He teaches tactics on how to build trusting, revenue producing relationships with employees, partners, and customers while sharing his experiences as a decorated fighter pilot and sales expert. A graduate of the Air Force Academy, he holds an MBA with a focus on Organizational Behavior and is a former top producing sales manager.  He successfully led national sales efforts for several cutting edge technology and consulting firms before becoming a motivational speaker and leadership expert.
Waldo has been inducted into the
National Speaker's Association Speaker Hall of Fame.Also known as the Council of Peers Award for Excellence (CPAE), the award honors those who have reached the top echelon of platform excellence.  It has been bestowed on less than 200 speakers worldwide since 1977, including Colin Powell, Zig Ziglar, and Ronald Reagan. Waldo is also a Certified Speaking Professional (CSP), which is the highest earned designation recognized in the professional speaking industry. Only 7% of all professional speakers hold this exclusive designation.
Waldo believes that the key to building a culture of trust lies with your wingmen – those who help you to overcome obstacles, adapt to change, and achieve success. In business and life, you should never fly solo! The ability to win when the heat is on lies in the ability of every wingman in your organization, regardless of their role, to support the team and be 100% committed to the mission.