Podcast: Play in new window | Download
Subscribe: Apple Podcasts | Android | RSS | More
Motivate, Collaborate with and Manage the Millenial Generation
It is rare today for employees to stay with one organization for the long tenures that were the norm before the Great Recession. In fact, "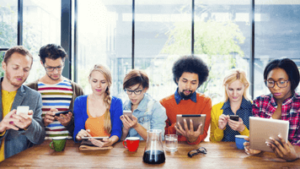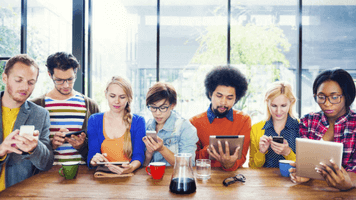 job hopping" is the new norm, especially for Millennials.
As management ages and prepares to work longer than previous generations and Millennials join companies at steady rate, companies are suffering from tension and dissonance between Millennials and Boomers, and realizing that they can't just wait for management to age out to fix it.
Millennials are not a 'me" generation but a "we' generation.
Lee Caraher
In today's podcast episode, our guest Lee Caraher addresses a very real concern of large and small businesses nationwide: how to motivate, collaborate with, and manage the millennial generation, who now make up almost 50% of the American workforce. The key is to change Boomer attitudes from disbelief and derision to acceptance and respect without giving up work standards.
By engendering a lifetime of loyalty from former employees, leaders can see them "return" in the form of customers, partners, clients, advocates, contractors, and even returning employees.
People leave organizations where bad leadership is allowed.
Lee Caraher
Author Lee Caraher shares her wisdom on how to get an intergenerational workforce to contribute to the larger goals of the organization. And she emphasizes the importance of creating valuable, long-lasting relationships with your employees to ensure they remain your biggest fans, even if they leave the company.
Work doesn't have to suck, you can look forward to it.
Lee Caraher
What You Will Learn:
The one thing that millennials really care about in their jobs
The tools and steps Lee took to prevent millennials from leaving her company
2 magic words you can use now to improve your company's culture

The stumbling blocks older generation employees are experiencing and how to adapt

Why you should not worry about people leaving your company
Why you need to redefine your definition on loyalty
Resources
BIO 
Lee McEnany Caraher is the founder and CEO of Double Forte, a national public relations and digital media agency, based in San Francisco, that works with beloved consumer, technology, and wine brands. Lee is a highly sought after communications expert known for her business building acumen and insights.
Lee is also an acclaimed author and speaker and a recognized expert on creating high performing, positive, intergenerational workplaces. Through her work, she shows companies how to embrace the qualities of different generations, and how to recognize the significant benefits of shifting the definition of company loyalty from a long tenure of employment to a lifetime of allegiance regardless of employment status.
Lee is active in her community, and sits on the board of directors or trustees of KQED Public Media, San Francisco's Grace Cathedral, and Menlo College. A graduate of Carleton College, Lee has a degree in medieval history which she finds useful every day. She splits her time between San Francisco and New York.