Podcast: Play in new window | Download
Subscribe: Apple Podcasts | Android | RSS | More
How to move from just making money to making a difference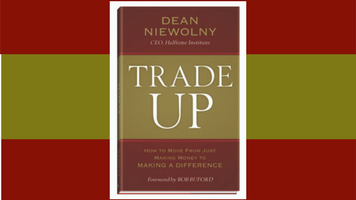 In my opinion, God puts in our heart this desire to be significant, this desire to be different, this desire to leave a legacy and make an impact.
Dean Niewolny
In his old life, Dean is the kind of person whose focus is only himself. After hearing Bob Buford and going through the Half Time program, he has discovered that happiness is not all about the money… it's something more.
There's this craving, there's this burning desire…to live a life of purpose, to make a difference, to be significant…
Dean Niewolny
According to a poll done by Gallup, only 20% of people feel that they're doing something that matters and 80% feel that they're doing something that doesn't matter so they're craving for significance.
The thing is, most people think that they have to do something grandiose. God has given each one of us unique gifts and all we need to do is take the time to get a better understanding of ourselves so there's really no need to compare ourselves with others. Setting aside a time to talk to God is the key that will help us in this process of discovering who we really are.
No matter what you're doing…take the time to really get a clear understanding what God wants to do through you and really take the time to get a clear understanding of your Ephesians 2:10 calling, because if you do, you will have joy, impact, and balance and it's so awesome to be in His sweet spot.
Dean Niewolny
What You Will Learn:
The first step in discovering your purpose

Why you don't need to be different to make a difference

Two things to focus on after becoming self-aware

The importance of spending time with God in the self-awareness process
Resources
BIO
Dean Niewolny spent more than twenty years in executive roles with three of Wall Street's largest financial firms, finishing his career in the financial sector as market manager for Wells Fargo Advisors in Chicago, where he oversaw a $100 million market. In 2010, Dean traded his marketplace career for Halftime Institute to help more people who, like him, wanted to expand their own "first half" success and skills into passion and purpose for meeting human needs and making a significant difference. Dean joined Halftime Institute as managing director and, in 2011, became the CEO. He speaks at events around the world, encouraging business leaders to channel first half achievement into a second half defined by joy, impact, and balance. He and his wife, Lisa, have two children and live in Texas.