How many clients are you LOSING every day because your message doesn't resonate with them?
When you attempt to attract everyone to your business, your message is lost, and you attract no one. The moral of a famous fable by Aesop is: "By trying to please everybody, he had pleased nobody and [lost what he valued the most."]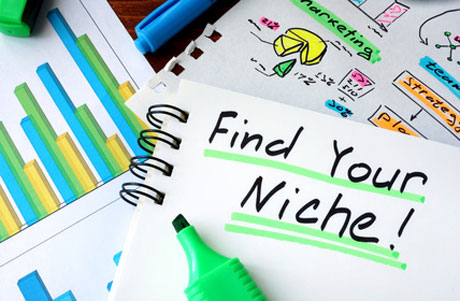 After spending almost two years in hospital after a near-fatal accident, I felt my calling was to coach business leaders. There was a burning passion to inspire, equip and launch leaders to their full potential. I could only work a few hours per week; after three months, I had met with 26 potential clients and had ONE person hire me.
Have you ever felt frustrated about the growth of your business and felt unsure about how to get new clients?
Niching was very counter-intuitive to me. In retrospect, it is clear that not being able to describe my ideal client and what I could do for them was holding me back big time! To jump-start my progress I hired Kim Avery, a brilliant marketing coach. She helped me change everything! In the next three months, seven new clients hired me. At the end of my first twelve months in business, I had a coaching business that supported my family!
Here is Kim's invaluable advice that will help you break through too: "My ONE piece of advice would be to research potential niches thoroughly. All niches are not created equal. Some potential niches don't have people who gather together in person or online, so it's practically impossible to find them. Other niches have people who frequently meet in groups but don't really have any common problems that they are eager to solve. And still other niches gather together, have problems they desperately want solved, but don't have the money to pay for a coach."
Why Niche
What is the reason that we are all so reluctant to niche our coaching? We hear it from every successful coach and it is taught in every marketing class.
Here it is: FOMO: Fear of missing out. This is what makes it counter-intuitive. If you are focused on your fear of not getting hired by someone who possibly might hire you, then you won't grow your business or attract your ideal clients.
Top coaches best advice for you
I interviewed some of the leading coaches in the industry on this very topic. Here is what they have learned along the way:
1. Use a mind map.
This is the fastest way to get a clear picture of your ideal client, their urgent needs and compelling desires, and how you are the perfect person for them to work with. (hint – just Google 'free online mindmap')
2. Identify your ideal client.
Be specific: what do they like to do? How do they contribute to society? What is their learning style? Where do they spend their time, on and offline? Are they willing and able to pay for your services? Research and answer as many questions as you can and put it into your mindmap.
3. Look at your current clients; who are your favorites, and why?
Survey them. What are their problems, needs and goals?
4.Identify your unique strengths, gifts and talents—and your weaknesses.
Sharing these weaknesses and how you are working on them makes you relatable, and develops a trusting relationship.
Ask yourself these questions: What do you do with joy and effortlessly—and is something that others would pay for? What group of people could use this service where you feel in your "genius zone"?
5.Identify the specific needs your ideal clients have in common.
Do some research. Which of these needs are under-served? Can you further specialize for a certain group of clients that are under-served?
6.What do your clients need from you?
And where does that connect to your strengths and areas of expertise? Think of examples of great results you have had with past clients and find ways of repeating the process with your niche clients.
7.Categorize the most common problems your ideal clients have.
Research these problems. Make a list of questions you can ask, to help them solve these problems.
A great way to do this is read three books about your ideal client or a problem they are trying to solve.
8. Hire a personal coach and/or join a mastermind group.
Invest in training. The accountability and connection will help you pinpoint strategies to drive the right clients to your business. If your weakness is marketing or closing the sale, mentorship will save the day!
9. Every coach is an entrepreneur which means we are action takers.
Be willing to fail forward and put in the work. Know who you are at the core and why you want to coach. Get active and involved in the lives of the people you want to serve.
10. Repeat steps 1-9 again!
Narrow down your ideal clients by another 50%.
A niche goes hand in hand with success
So while it might seem unappealing at first, your goal will be to target your ideal client.  You might talk to fewer ideal clients in the beginning but you will start connecting with exactly who you want to work with who knows exactly what they want. That's why targeting a niche can actually result in faster business growth: because prospective coaching clients searching for a specific solution have narrowed down their interest, and are almost ready to buy.
To recap, you should select a niche for your small business because:
There's a ton of competition out there, and it can be a challenge to stand out with limited resources,
Having a specific coaching category or area of expertise makes it easier to describe what you do, and
Targeting a niche gets you in front of people who are ready to invest in solving a problem they have.
There are a lot of coaches out there but there is only ONE you! Distinguish yourself from everyone else by knowing who you want to work with and what outcomes you help them get.
We would love to hear from you!!  Please let us know your best tip or lesson learned in finding your ideal client profile and target market!!!
To your success,
John Ramstead, ACC, CPLC is listed by Inc. magazine as one of the top 12 leaders to listen to. He is Executive Coach and founder of Beyond Influence, which trains and equips leaders and coaches. He is the host of the Eternal Leadership podcast heard in 192 countries and he is a preferred leadership trainer for the US Air Force.