Welcome to the Eternal Leadership podcast
We are dedicated to equip and inspire leaders to accomplish what God has created in them! Our goal is to help you develop an extraordinary life, business and faith.
To subscribe to the podcast, please use the links above and you will be automatically subscribed
.
Please leave us an honest rating and review on iTunes by clicking here.  
It will help the show and its ranking in iTunes immensely!  We appreciate it!
Traditional medicine to natural medicine "A lot of what functional medicine is trying to help people get to the root cause of their problem and addressing the root cause instead of taking a...
read more
Halftime
John Ramstead
I have been married for 25 years to my best friend and together we have three incredible boys.  It has been three years since a near fatal accident changed the trajectory of my life.  Without the incredible support of God, my family and amazing friends I wouldn't be the person I am today.
As I recovered I sought direction on why God saved me and what He now wants me to do.  He led me to a new calling: take the life He's given me and pour it into other leaders to equip and inspire them to work in His Kingdom.
My twenty-five years as a Navy fighter pilot, entrepreneur, Fortune 500 management team member and board chair has led me to serve others towards extraordinary lives, businesses and a personal relationship with Jesus Christ.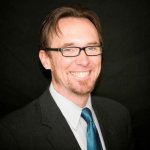 Steve Reiter
After working 15 years for Dr. James Dobson at Focus on the Family and Family Talk as his audio production manager and chief audio engineer, in 2012 Steve made a career move to financial services.
He currently works for Precision Wealth Management in Colorado Springs and has also been accepted to Fuller Theological Seminary in their Masters of Christian Leadership program.
Ever since leaving radio, numerous people told have him, "Steve, God's not done with you in radio or media" and Eternal Leadership is the perfect blend of the old career and new one.  Steve has been married since 2001 to Elizabeth and they have two boys (8 & 10).